HR's Race Matters initiative offers regular forums with an HR-perspective.
Designed for UC Davis HR professionals, managers and supervisors who want to reduce bias in the workplace and engage with their teams on matters of race.  
Upcoming Events
---
"Not Racist" is not Enough: The Journey to Becoming Anti-Racist
March 23rd, 12:30 - 2:00        Register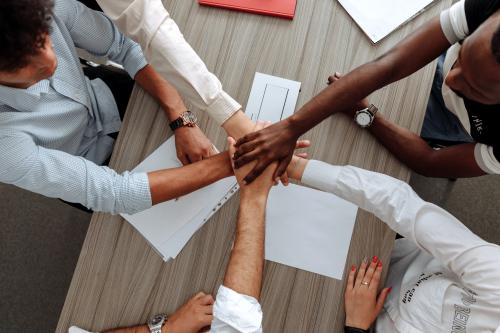 In this session participants will consider and assess their own progress in advancing diversity, equity and inclusion efforts in our workplace and lives.  We will learn what it takes to be "anti-racist," and leverage a tool that defines the fear, learning and growth continuum associated with this journey. In small group discussions, participants will reflect on and discuss their personal experiences, share best practices, and identify action steps towards becoming anti-racist and cultivating a culture of inclusivity at UC Davis.
---
28-Day Challenge to Build Habits Supporting Racial Equity
Join us in February for this challenge and related discussion groups.
"There is no social change fairy.  There is only the change made by the hands of individuals."   – Winona LaDuke 
Social change starts with each of us, as individuals, and like other successful changes you've made in your life, it takes time and attention. Let's set our intentions and make supporting racial equity a habit with the Race Matters 28-day Challenge. 
Visit the Challenge web page for details!
---
Past Events and Materials
New Year, New You: Building Habits for Racial Equity
Presented January 27th, 2021
In this session we invited everyone to join us in a 28-day challenge for building habits around racial equity.  We explored why this was important, how the challenge worked, and then dove in with the first week's theme, History, by exploring the topic of Systemic Racism.

Materials from this session include:
 > Presentation Slide Deck (PDF)
 > Recording of Presentation (43min)
 > Act.TV Video on Systemic Racism (4min23sec)
 > WordCloud - Attendees answers to "How are you feeling about engaging in the topic of racial equity?"

This session was presented by Christine Lovely, Ann Foley, Gayle Guest-Brown and Lyndon Huling and discussion group facilitators included Vickie Gomez, Jim Hankins, Mercedes Piedra, Vicky Tibbs, and Kawami Evans.
Advancing the Conversation
Presented December 15th, 2020

Christine Lovely, Senior AVC of HR and Chief HR Officer, moderated a candid discussion with these leaders about their experiences with facilitating discussions about race, bias and equity.

   Mercedes Piedra, Director of Multicultural Education at UCDH
   Kawami Evans, Director of Inclusion & Organizational Development, Student Housing
   Jim Hankins, Executive Director of HR Shared Services Organization

With additional facilitation by Lyndon Huling and Gayle Guest-Brown

Recording of 12/15 Workshop (1 hr, 24 min)

Business as Unusual: Talking About Race at Work
Presented November 12th, 2020

Facilitated by Gayle Guest-Brown & Vicky Tibbs
This interactive and informative session explored engagement, team agreements, micro-aggressions, and how to use the Crucial Conversations framework  to engage in true dialogues even when faced with tough conversations.  

Download Materials
Guide: HR Toolkit for Talking About Race at Work

Belonging | Creating Inclusive Environments
Presented October 8th. 2:00 - 3:30

Presented by: Gayle Guest-Brown, MBA and Lyndon Huling, EdD

This workshop explored how recognizing and mitigating bias is an important first step in creating an equitable workplace, but making our work environments truly inclusive requires more action.

Download Materials
Guide:  HR Toolkit for Inclusive Work Environments
Presentation Slide Deck (PDF)

Implicit Bias: Understand It & Mitigate It
Presented September 10, 2020

Presented by: Lyndon Huling, EdD and Gayle Guest-Brown, MBA

This workshop explored how biases can negatively impact HR policies, practices and personal interactions
> Understand how bias impacts hiring, compensation and other HR practice
> Unpack the baggage of stereotypes
> Leverage a new guidebook to help identify and mitigate bias

Download Materials
- Guide: Addressing Implicit Bias in the Workplace
- Presentation Slide Deck (PDF)

Confronting and Reducing Bias in the Workplace
Presented August 6, 2020

Presented by: Shaun Fletcher, PhD

Participants gained a deeper understanding of the concept of diversity in the workplace and reflect on your role in creating a more inclusive environment.

Download Materials
The following addressed strategies for reducing barriers and bias, and encouraging an inclusive mindset in the workplace or community.
> Presentation / Slide Deck (PDF)
> Unpack Your Stereotypical Baggage
> Definitions of Social Identity Concepts & Social Identify Profile
For more on opportunities to learn and engage on topics around racial equity, bias, diversity and inclusion, please
visit the Education page
for University's Office of Diversity, Equity and Inclusion.