Compensation Initiatives - Summer 2023
The Compensation Services Team is committed to advancing best practices around compensation for UC Davis employees.
As part of our comprehensive and overarching compensation philosophy, we are in the process of implementing several compensation initiatives for existing staff within UC Davis.
Compensation Services is taking the following actions over the next six weeks:
While UC Davis salaries are competitive, and our total compensation (wages + retirement + benefits + perks) is nearly unmatched, we understand that people also want to know their contributions are making a difference and that they have opportunities to grow within UC Davis. Compensation Services is responding.
---
Changes Coming to Compensation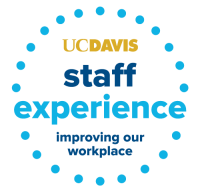 Some of this work is done regularly as part of Compensation Services' year-round efforts to keep UC Davis wages competitive, but the adjustment to policy that will allow salary increases for lateral moves is a significant change identified through the Staff Experience Advisory Group, approved by the Chancellor, and implemented by Compensation Services.
NEW: Salary Increases for Lateral Moves:
Old Policy:

Lateral transfers within the same job/title code in a career status were

NOT

eligible for a salary increase.

New Policy:

Lateral transfers within the same job title or grade

May Be Eligible

for a salary increase if selected through a competitive recruitment process.


 
Salary Increases Up to 5% - See Conditions

The hiring department has the authority to approve a salary increase on a lateral transfer up to 5% of the base salary. Eligibility for this increase is based on factors such as added responsibility for staff supervision, transition to career status from a non-career position, significant difference in responsibility, fiscal accountability, and/or size of team supervised/managed, or movement from an internal to a centralized department, and added duties not part of the current position.

Salary Increases Over 5% - See Conditions

Salary increases exceeding 5% of the base pay require review and approval by Compensation Services. Situations where an increase above 5% may be granted include non-exempt total cash compensation at or greater than exempt salary, transition to a supervisory position with added responsibility, and extensive relevant job experience, knowledge, and skills in the new job title compared to the current one.
---
General Salary Increases in 2023
UC Davis rewards employees for their service and dedication to patients and students through regular salary increases for both represented and non-represented staff.
Now that the state budget has been approved, all eligible policy-covered staff will receive a

4.6% increase to their base salary

Bi-weekly Paid Employees: Increase effective June 25, appearing on the July 19, 2023 paycheck.

Monthly Paid Employees: Increase effective July 1, appearing on the August 1, 2023 paycheck.

Eligible represented staff will see the following salary changes. Please refer to your bargaining unit's contract for specific information.

CX: Range Adjustment - June 25, 2023, Step Increase - June 25, 2023

EX: Step Increase - July 9, 2023 (Bi-weekly)

HX: Range Adjustment - July 9, 2023 (Bi-weekly), July 1, 2023 (Monthly)

NX: Step Increase - June 25, 2023

RX: Range Adjustment - July 9, 2023 (Bi-weekly), July 1, 2023 (Monthly)

SX: Step Increase - July 9, 2023 (Bi-weekly)

TX: Range Adjustment - July 9, 2023 (Bi-weekly), July 1, 2023 (Monthly)
Salary Increases Increasing
We've been pleased to see non-represented staff salary increases rising over time:
2023 = 4.6% increase
2022 = 4.5% increase
2021 = 3% increase
---
Salary Regrade and Range Adjustments
While these changes will have no immediate impact for most employees, it will increase salaries for non-represented staff at the bottom of the range. Compensation Services is committed to competitive total compensation for everyone, and these moves will benefit all employee salaries over time.
Compensation 101
UC applies a geographic differential to the wage tables for each campus, and Compensation Services monitors ours closely to ensure UC Davis is paying "fair market wages" for our region. As the cost of labor has increased in our region, compared to other parts of the US, Compensation Services tracks this and ensures that our jobs are graded correctly and that our salary ranges are adjusted upward. 
Additionally, Compensation Services was able to increase UC Davis' geographic pay differential from 110% to 112% of the national average, compared to San Francisco at 125%, effective July 1, 2023. This helps UC Davis salaries to remain competitive when compared to surrounding areas and other UC campuses. 
Salary Range Adjustments




The minimums, midpoints, and maximums for Career Tracks salary grades are increasing. Employees whose salaries are below the new range minimum will be notified by Human Resources that their salaries will be raised to the new salary range minimum:

Bi-weekly Paid Employees: Effective June 25, 2023

Monthly Paid Employees: Effective July 1, 2023

Career Tracks Regrade Effort




As part of the UC annual Career Tracks salary grade review, Compensation Services validates that job titles and salary grades align with the labor market. As a result of this year's review, 131 job titles have had their salary grade increased, and 3 job titles will move into the MSP personnel program, effective:

Bi-weekly and Monthly Paid Employees: July 1, 2023

For Personnel Program Change: Targeted August 1, 2023
---
Other Programs to Recruit and Retain
HR and Compensation Services administer other programs that incentivize employees for working at UC Davis and help promote pay equity. It's important that every employee's position description accurately reflects the work they do to ensure they are paid fairly for their contributions to UC Davis.
---
Learn More
HR and Staff Assembly are hosting a webinar where your questions get answers, and compensation will be among the topics discussed. 
Friday, June 23
1:30 - 2:30 p.m.
Register and Submit Questions via Zoom
---
Compensation Services Supports Employees
We understand that rewarding and recognizing employees is crucial for improving employee engagement, as highlighted by the Staff Experience Survey on campus and the CommUNITY Feedback Survey at UC Davis Health.
Tags