This Strategic Planning Guide represents the culmination of a combined author experience of 30+ years and facilitating many successful strategic planning efforts.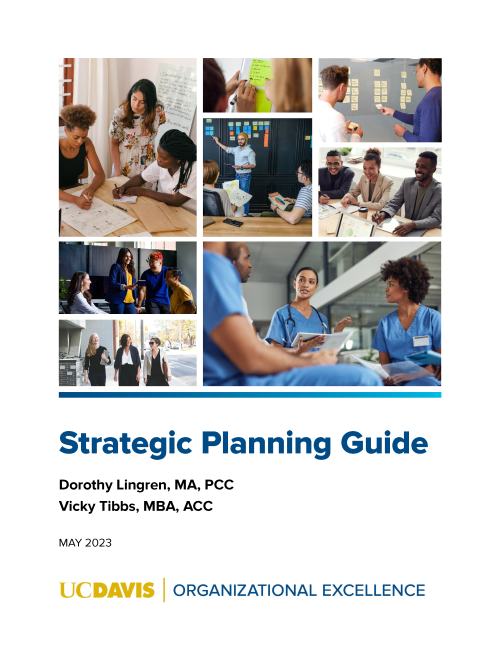 How to Use This

Guide
No matter what level of understanding you have of the strategic planning process, this guide can be a reliable resource.
If you are new to strategic planning, you will find the entire process outlined here. It will help you gain an understanding of the steps involved, the resources needed, the time frame and the level of expertise required to develop an effective strategic plan.
If you have worked on strategic plans in the past as a participant, this guide helps to situate you in the larger context of the process, providing an opportunity to support plan development at the ground level, as well as at the overarching process level.
If you are leading your department's strategic planning effort for the first time, this guide is your roadmap to success! Not only do we take you through the process, but we also provide proven practices and exercises. We provide you with tips and suggestions, addressing when you may benefit from outside support. We have seen first-hand the challenge of leaders participating in the process and leading it at the same time.
For seasoned strategic plan leaders, this guide serves as a roadmap and a checklist. It can be used to introduce your staff to the process and desired outcomes. It also serves as a resource for finding common ground with your strategic planning consultant. It helps you determine which facets of the plan you want to lead and where you know you will benefit from being a full participant in the process.
For strategic planning consultants working with UC Davis, this guide helps you to understand the nature, process and components of successful strategic planning efforts at UC Davis. It is an effective bridge for you and the and the units you are serving.
Download Organizational Excellence's Strategic Planning Guide for UC Davis
---
About the

Authors
Dorothy Lingren, MA, PCC and Vicky Tibbs, MBA, ACC are Senior Organizational Development Consultants at UC Davis, each with more than 15 years of experience helping leaders and organizations achieve new levels of performance.
They each bring a combination of experience and capabilities necessary to guide each client organization through an effective strategic planning process that results in actionable goals toward a clearly articulated, values-based vision. They are masterful group facilitators, focused executive leadership coaches, seasoned change management experts, and outcomes-oriented professionals.
---
Questions?

Comments?

Suggestions?
We welcome your feedback, Please direct your comments to oeconnect@ucdavis.edu.