Staff Experience Survey Coming March 28
Let your voice be heard.
The Survey
On March 28, employees will receive an email invitation to complete the Staff Experience Survey, an opportunity to provide feedback on workplace flexibility, belonging, career opportunities, leadership, and other important areas.
The Staff Experience Survey consists of 27 questions that can be completed in less than five minutes, but employees have until April 29th to submit them. The survey will be conducted by Gartner, a third party company that collects anonymous data in an effort to promote honest responses.
What Happens Next
In May 2022, the results will be released to supervisors and managers, as well as made public on the UC Davis Human Resources website.
From there, the Staff Experience Campus Advisory Group (SECAG) will get to work on the most important part of this effort: using the data to take action and make UC Davis an even better place to work. You can stay up to date on SECAG's activity on the Worklife Wellness website.
Plus, every time someone completes a survey before April 11, a $2 contribution will be made to the Staff Emergency Fund to help staff in financial need.
---
Learn more about the Staff Experience Survey at hr.ucdavis.edu/staff-experience-survey, including survey questions and progress since 2020.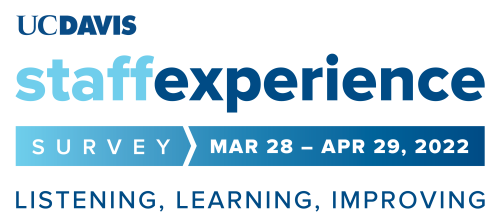 Primary Category